Three Different Restaurants, One Common Purpose
Each of the three restaurants in the Tamarind group has its own unique character. The elegant sophistication of the Nairobi Tamarind. The vibrant buzz of the Carnivore. The ocean-scented magic of the Mombasa Tamarind. Yet despite the many differences, a dedication to excellence unites them in all that they do. Primarily of course, what they do is food, and quite frankly, nobody in Kenya does it better.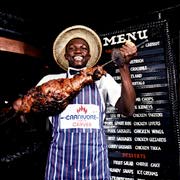 The Tamarind has earned a reputation worldwide for succulent seafood. Its Prawns Piri Piri, Chili Crab and Lobster Swahili have impressed restaurant critics from Sydney to San Francisco. The constant stream of Tamarind guests, both in Nairobi and at the Coast, testifies to the quality of the entire menu. We are equally proud of the fact that the Carnivore is frequently nominated the finest "nyama choma" restaurant in Africa. Both tourists and locals flock to our premises in Nairobi and Johannesburg to enjoy the complete meat eating experience, from antelope to zebra. But although the main attraction of the restaurants in the Tamarind Group is obviously good food, it is not the only one.
The appeal of all our establishments is enhanced by a uniformly high standard of service, a consistently relaxed and friendly atmosphere and real value for money. At the Carnivore, you will find the Simba Saloon provides added spice in the form of a weekly entertainment programme that features everything from afro to rock, frequently attracting live bands of both local and international renown. At the Mombasa Tamarind, there is the magnificent Tamarind Dhow, which offers guests the opportunity to sample its famous seafood while cruising the very waters whence it came.
So, the next time you want to dine somewhere special, book a table at one of our restaurants. There are three to choose from. But all have one common purpose: to provide you with an unforgettable dining experience.
---
Reservations recommended:
Carnivore Nairobi - Tel: 501709, 501775
Tamarind Nairobi - Tel: 338959, 220473
Tamarind Mombasa - Tel: 474600/1/2, 474610